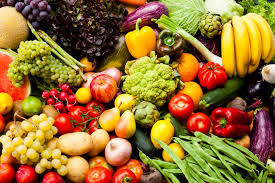 I have always been conscious of my health, studying and experimenting since I was in my twenties. There is no doubt that the topic of diet is very confusing. What is the most optimal diet for health, weight loss and stability and longevity?
Well popular "lifestyle" diet information ranges from low carb, high fat, moderate protein to high carb, low fat, vegetable protein to anything and everything in between. We have the raw food diet, the paleo diet, the starch diet and so many others to choose from. We have meat based, vegetarian and vegan diets. What diet is right? What is the best diet?
I don't feel there is ever a one size fits all for diets, however I have been a vegetarian since my twenties and for both ethical and health reasons I have remained vegetarian. I recently watched the film "Cowspiracy" on Netflix, which lit a fire under me to move towards veganism. The problem was that I was a low carb, high fat vegetarian at the time and my diet consisted of a lot of cheese, eggs and butter. It would be difficult to be vegan on a low carb diet unless you ate mostly vegetables, nuts and seeds. That did not feel optimal to me at all, so I knew a diet change was necessary.
When I initially went low carb I weighed 137 pounds on my five foot eight inch frame and was feeling a bit dumpy. I had maintained a weight of around 130 pounds my whole adult life, after recovering from an eating disorder in my late teens. Now my weight was creeping up and I knew I needed to take action before it got out of control. I did some research and decided to give the "low carb, high fat" diet a try.
Within a month I lost fifteen pounds. I thought I had discovered the keys to the lean and healthy kingdom. I was living on full fat plain yogurt, berries, cheese, cream in my coffee, and lots of butter in my soups and veggies. I was still vegetarian and eating healthy, according to what I believed at the time. My weight dropped down to 120 pounds and it stayed at that level, which seemed to be my ideal weight.
When I first began the "low carb" lifestyle I was very exhausted. I couldn't even push a lawn mower, because I was converting my body from a sugar burning machine to a fat burning machine. Because my carbs were so low, my body had to burn fat for energy. When I first removed all the carbs and sugars, my body wanted the sugar. It craved the sugar. I was tired all the time, but in about a month I began to regain my energy and continued to pour in the fats. I did notice that I didn't quite have the youthful, vibrant energy I had earlier in life when I did so much hiking. I would tire a bit more easily now, but chalked it up to getting older.
Perhaps it was a little residual from my eating disorder, but I developed a fear of carbs and sugars. I avoided them like the plague, even though I knew I needed to have some carbs I would be very strict with how much I allowed. I used Xylitol for a sweetener and rarely had more than a half cup of blueberries and perhaps an apple in a day.
After several months on this diet, I decided it was okay to add a sweet potato to my soups, but that was a stretch. I felt guilty when I went to Thai food and ate the rice and veggies, although I didn't experience any weight gain from my occasional straying.
About four months on low carbs I began to develop insomnia. There were some emotional challenges going on in my life at the time so I chalked it up to relationship difficulty. The insomnia got worse and worse to where I would lie awake all night, every night. I would go days at a time without a wink of sleep and was losing energy. My former vibrant, energetic self was fading fast and I became weak and sickly. My adrenals were fried with the result being a complete adrenal crash! I couldn't get out of bed. I couldn't handle any stress at all. I was forgetful, confused and highly nervous and anxious. I was completely non-functional.
I began researching insomnia and adrenal fatigue and spent thousands of dollars seeking help. Finally with the help of a naturopath doctor, who put me on some homeopathic remedies and a temporary prescription for sleeping pills, I was able to get some sleep. She also recommended the "Adrenal Reset Diet" which suggested I eat more carbs; especially at night. And so I invited yams, rice, beans, lentils and sweet potatoes back into my world. I no longer cared if I gained weight. I wanted to recover my health and that was my priority.
Within weeks I was sleeping again at night. I had a few bad nights but more good than bad. I was feeling more energetic, hiking again and much happier.
In the summer I noticed my weight creeping back on and I knew it was the carbs. I contemplated going back on the low carb, high fat diet, but was afraid my insomnia would return. So I went back to the drawing board and researched high carb diets. I revisited the "Furhman Diet" and "The McDougall Diet" and although I followed the "Furhman Diet" in the past I still ate butter, cheese, cream, coconut oil, olive oil and other fats. After studying many high carb vegan diets I realized that fats were the missing piece for me. I had an aversion to giving up fats. I liked my fats! I liked my half and half in my coffee, my cheese and olive oil. I liked the rich fatty dressings on my salads. I liked my fats but something had to give. I was still seeking the ideal lifestyle diet and realized I needed to give the "high carb, low fat" lifestyle a chance to prove or disprove itself.
What I came to realize is that the dangerous combination for health and weight loss was the combination of sugars and fats. This is why I didn't feel my best of a raw food diet. I was eating a lot of nut and dried fruit combinations as well as a lot of coconut oil and even agave nectar. I had never actually tried a low fat, high carb diet.
I began by going ten days on just raw fruits and vegetables and then I began to add yams, sweet potatoes, rice, beans, and bananas. Bananas had gotten a bad rap. They were known to be very high sugar and bad for belly fat. I started drinking banana smoothies in the morning with a couple bananas and a couple dates. I had left both behind well over a year ago and it was so amazing to bring both these high energy foods back into my life.
It was difficult at first not having butter on my potatoes and rice. It was difficult not to saturate my stir fried veggies with olive oil. But if I was going to give this lifestyle a fair chance I had to play by the rules. Guess what happened? Energy! Lots of energy! And I was sleeping so much better!
I forgot what it was like to have insomnia. My mood began to increase too. I was happier! My complexion was clear and radiant after only a couple weeks on the high carb, low fat lifestyle. I realized that fats had more to do with our acne and skin disorders than we realize. I had a rash on the back of my neck that had been coming and going which completely cleared up. I lost my desire for alcohol (mostly wine) and stopped having any. My mood and well-being was starting to improve to the point I had no need or desire to alter it. I was more interested in getting outdoors, pushing a lawn mower, going for a hike, jumping on my trampoline, doing yoga and even doing the necessary chores around the house. Where I previously didn't have much energy to clean my kitchen in the evening, I could now do with ease.
My weight dropped back down to 120 pounds, my digestion is quiet and my stomach is flat. It even feels like my skin tone is improving.
I am excited and looking forward to increased results from the plant based, high carb, low fat diet. I may have found the lifestyle I can healthfully adhere to for the rest of my life. It is healthful vegan, sustainable, very inexpensive compared to other lifestyle's I have tried, and I know I am following the best diet for a sustainable future. I am doing my part!
What I learned from the "Cowspiracy" documentary, is that we cannot sustain our planet and its people with animal agriculture. We just don't have enough land to continue farming to provide for the ever increasing population of mankind. Also when we buy meat, fish and dairy we are contributing to the cruelty and slaughter of innocent animals. Although grass fed meat and dairy is a healthier option, even this practice is not sustainable for our growing population. If we use our available land for organic vegetable farming, we could feed the world with so much less investment of land, time and money let alone depletion of our natural resources. Even fishing is no longer sustainable. The pollution of our oceans along with industry fishing is not only compromising the quality of the fish for food, but depleting the fish in our oceans. Commercial fishing is also contributing to mass killing of dolphin's and other fish that get caught up in the nets.
I am convinced that the only sustainable food for the health and well-being of a population that is growing exponentially is a vegan lifestyle.
John McDougall, MD, is convinced that a starch based diet is the optimal diet for mankind and provides all the nutrients we need for a healthful, disease free lifestyle. He has a popular Ted Talk here: https://youtu.be/d5wfMNNr3ak
Another great Ted Talk on the plant based diet can be found here.
We can go around and around arguing about what kind of diet is optimal but the only way to really know what is best for you is to try it! Give it a fair chance. You may need to make some adjustments along the way.
Since I work in the field of "emotional health," I am always looking out for lifestyle changes one can make to provide for the optimal physical, mental and emotional well-being. In just a few short weeks I have increased my own level of well-being through a high carb, low fat, plant based diet.
Of course I still avoid most gluten's, eat organic and avoid all GMO foods. I eat organic, healthy starches like potatoes, yams, sweet potatoes, wild rice, brown rice, quinoa, beans, lentils, lots of veggies, both raw and steamed, salads with no fat dressings, minimal nuts and seeds, avocado, and other healthy fats, and fruits such as bananas, apples, blueberries and dates. I am never hungry. Feel great and eat as much as I care to.
It is still early in the game for me as I have not had enough time to measure results long term but have heard very positive testimonials from many "high carb" based physicians and from people who have gone on this lifestyle diet. Sometimes results speak for themselves. They trump all the scientific reports and studies. So give a healthy, plant based diet a try and let the results speak for themselves!